Kitchen & Bath Design Services in Rochester, NY
At Rochester Flooring Kitchen & Bath, we take pride in being your go-to destination for transforming your kitchen and bathroom into stunning, functional spaces. Our talented team of home design experts is here to assist you in creating the kitchen and bathroom of your dreams. With a wide selection of stylish products and a commitment to exceptional service, we are dedicated to making your vision a reality. Ask us about our exclusive kitchen and bath services in Rochester, NY, and discover how we can elevate your home.
Learn more about the benefits of waterproof flooring and tile solutions for your NY home, and why we are your premier interior design flooring store.
Why You Need Waterproof Flooring for Your Kitchen & Bath
When it comes to kitchen and bathroom flooring, durability and water resistance are paramount. Here are four reasons why waterproof flooring is essential in your NY home:
Moisture Resistant: Waterproof flooring prevents water from seeping through, reducing the risk of damage, warping, or mold growth.
Easy Maintenance: Cleaning up spills and messes is hassle-free, ensuring a hygienic and low-maintenance flooring solution.
Aesthetic Appeal: Our waterproof flooring options come in a wide range of designs, colors, and textures to match your decor.
Longevity: Waterproof flooring is built to last, providing you with peace of mind and longevity in your kitchen and bathroom spaces.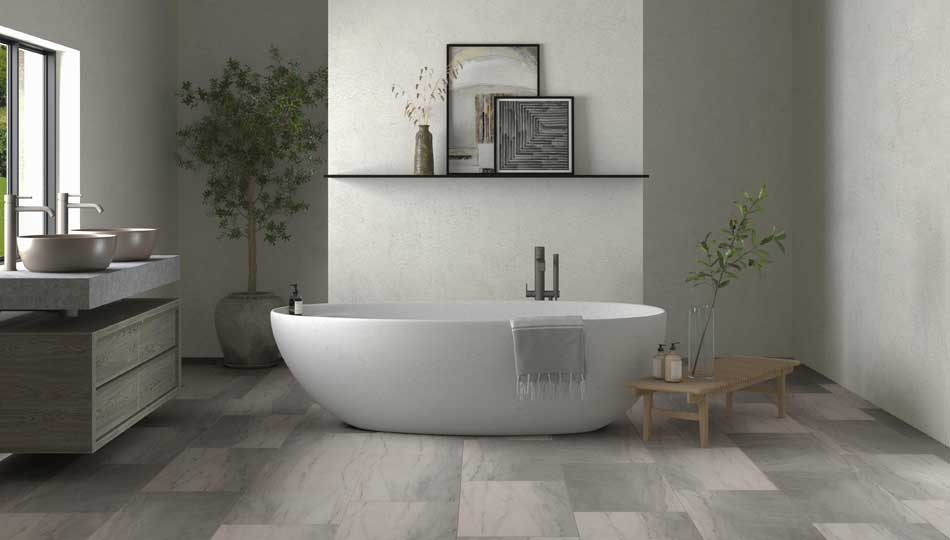 Best Waterproof Flooring Products for Durability & Style
At Rochester Flooring Kitchen & Bath, we offer an array of top-tier waterproof flooring options that combine style and functionality:
Luxury Vinyl Flooring: Vinyl mimics the look of natural wood or stone while providing superior resistance to water and wear.
Karastan Waterproof Wood: Karastan's waterproof wood flooring offers the beauty of hardwood with the added advantage of being impervious to moisture.
Porcelain Tile: Porcelain tile is an exceptional choice for kitchen and bathroom floors due to its resistance to moisture and ease of maintenance.
Natural Stone: Natural stone flooring, such as marble and granite, adds both luxury and elegance, with inherent waterproof qualities.
Three Tips on How To Choose the Best Kitchen & Bath Products
Selecting the right home improvement products for your kitchen and bathroom is crucial, as these spaces require a blend of aesthetics and functionality. Here's how you can make the best choice:

1. Consider Your Lifestyle

Kitchen: If your kitchen is a bustling hub where spills and foot traffic are frequent, consider the durability and ease of cleaning.
Bathroom: Bathrooms demand flooring that can withstand moisture and maintain its appeal, making water-resistant or waterproof flooring a good solution.


2. Explore Design Possibilities

Kitchen: Consider engineered hardwood floors for a luxurious touch, or opt for porcelain or natural stone to elevate your kitchen's style.
Bathroom: In the bathroom, explore the versatility of tile, which not only provides water resistance but also comes in various textures, colors, and sizes.


3. Ask Key Questions

Color: What color scheme complements your overall kitchen or bathroom design?
Style: Are you aiming for a classic, modern, or rustic look?
Square Footage: Measure the area to determine how much flooring material you need.
Ease of Cleaning: Consider the maintenance requirements to fit your lifestyle.
Durability: Evaluate the flooring's durability, especially in high-traffic areas.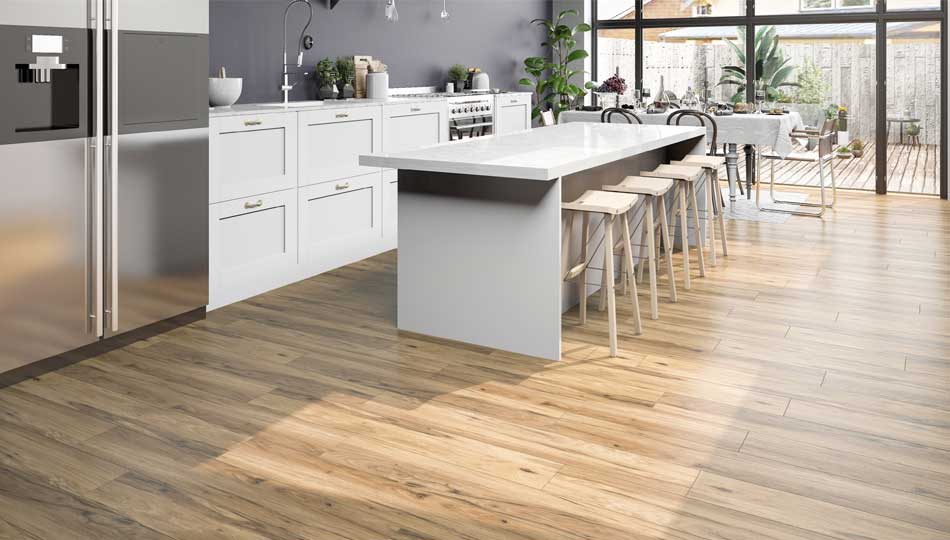 Popular Design & Flooring Solutions in Rochester, NY
In the vibrant design scene of Rochester, NY, several flooring trends and design solutions stand out. Here's a closer look at the popular kitchen and bath designs:

Kitchen & Bath Flooring:

Wood-Look & Stone Look
Luxury Vinyl
Tile
Waterproof Hardwood, e.g., Karastan
Heated Flooring (Schluter)


Kitchen & Bath Tile Styles:

Custom & Handmade Tile
High-gloss White Tile
Subway Tile
Brick-Laid Herringbone
Picket Subway Tile
Varying Tile Sizes, e.g., 3x6, 4x10, 4x12, 12x24
Expert Design Guidance: Why Choose Rochester Kitchen & Bath
Our experienced team understands that every kitchen and bathroom project is unique. We offer a free in-home design consultation to discuss your ideas and preferences, helping you make informed decisions that suit your style and budget. Here are some reasons why we stand out from the other flooring stores:

1. Bathroom Design Excellence

Premium Flooring: Elevate your bathroom's aesthetics and durability with our 100% waterproof wood and tile flooring, with exclusive Carpet One brands like Karastan and Mohawk.
Custom Tile Showers: Create a luxurious and unique shower space with our custom tile shower designs, featuring natural stone and marble-like finishes.
Stylish Backsplashes: Transform your bathroom with unique backsplash designs that add a touch of elegance and individuality.
Vanities & More: Explore our range of vanities and bathroom accessories to complete your bathroom makeover.


2. Major Kitchen Transformation

Waterproof Flooring: Choose from a wide variety of luxury vinyl wood and tile looks to suit your kitchen's style and functionality needs.
Kitchen Countertops: Discover the beauty and durability of our heat-resistant countertop materials, including quartz, granite, and laminate.
Kitchen Cabinetry: Explore our extensive cabinet selection, from base to wall cabinets, and experience the convenience of a well-organized kitchen.
Custom Design Solutions: We offer custom-made countertops and cabinets to perfectly fit your kitchen space and lifestyle.


3. Stylish Countertops and Cabinets

Choose from a stunning array of countertop materials, colors, textures, and styles, all designed to provide both aesthetics and functionality.
Enhance your kitchen or bathroom's visual appeal and organization with our base, wall, and floor-to-ceiling cabinets, including custom-made options.


4. Personalized Products & Services

Professional Installations: Our professional installers will measure your space accurately and create a layout that perfectly accommodates your needs and preferences.
Experienced Design Team: From timeless classics to contemporary designs, you can find ideas that resonate with your personal taste.
Kitchen & Bath Financing: Ask us about our financing solutions to find a plan that suits your budget.
Years of Experience: Ask us about our past kitchen and bathroom projects showcasing a wide range of beautiful looks we've accomplished.
Kitchen & Bath Remodeling Ideas For Your NY Home
Get the latest trends and styles from our experts at Rochester Flooring Kitchen & Bath! Check out these remodeling ideas from our Flooring Blog:
Get Kitchen & Bath Design Services Near You in Rochester, NY
When it comes to kitchen and bath design in Rochester, NY, Rochester Flooring Kitchen & Bath is your trusted partner. Let us help you create a home that truly reflects your style and enhances your daily life. Contact us today to schedule your free in-home design consultation and embark on a journey to transform your kitchen and bathroom into spaces of beauty and functionality. Visit our showroom, located at 360 Jefferson Road, Rochester, NY to get started today!