It's no secret that organic and sustainable décor pieces are highly sought after, especially now, when eco-friendly, nature-immersive design is all the rage. After the last few years of spending much of our time within the confines of our own homes, the desire to get back into nature, and to bring nature indoors, is stronger than ever.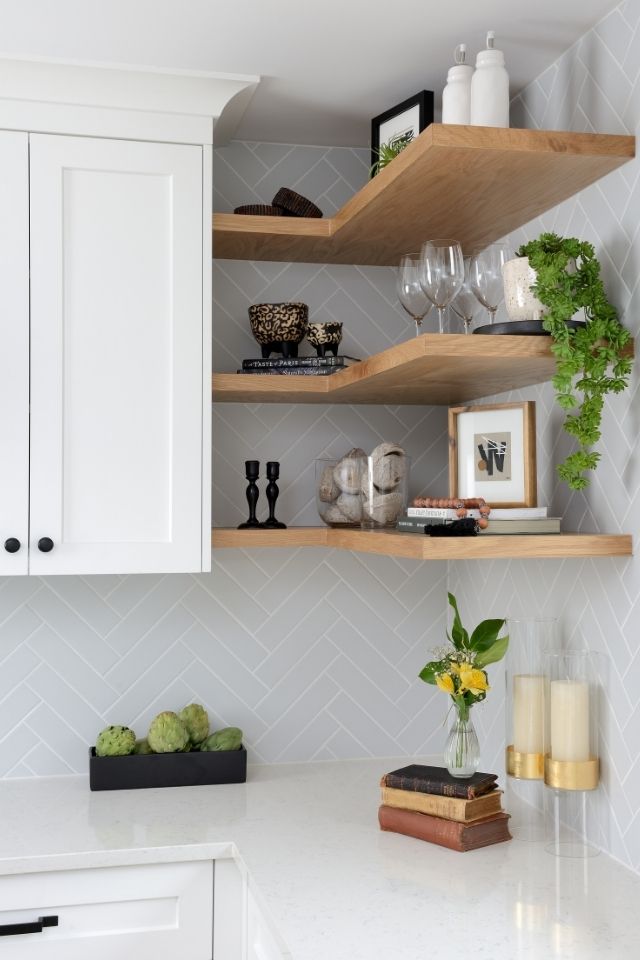 Design by MICHELLE BERWICK Photography by LARRY ARNAL
With that in mind, we've created a simple guide to including organic materials in your home, or next interior design project. Whether you're looking for small and simple organic inclusions or searching for the perfect way to revamp your entire space, we've found the best organic style solutions to fit your every need.
1. Using Natural Wood and Wood Appearing Decor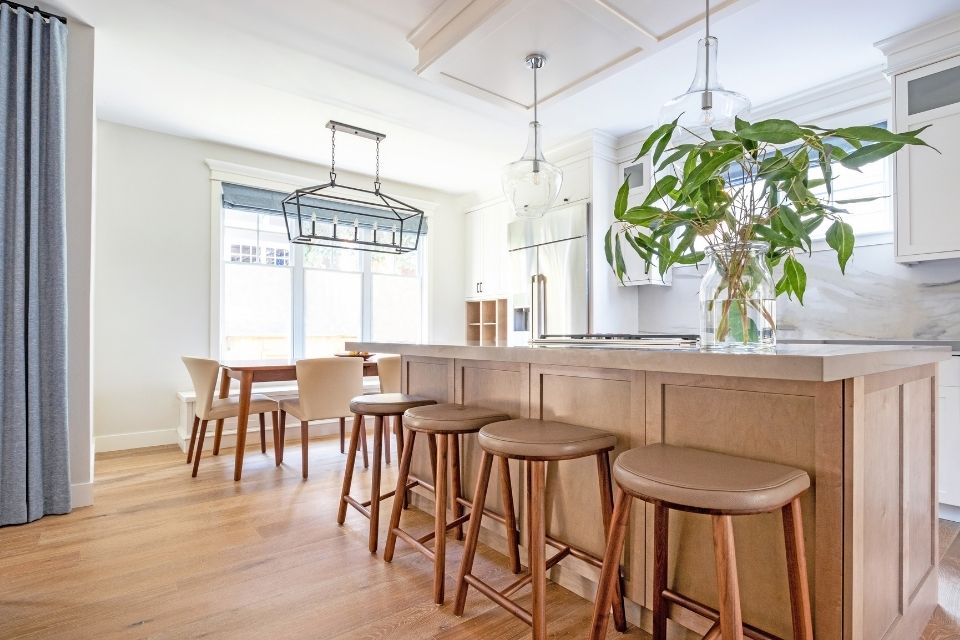 Design by LOUIS DUNCAN-HE
Whether you're looking for a total organic overhaul, or just some nature inspired elements to breathe new life into a space, wood is one of the easiest ways to achieve the design you envision. If you're ready for a bigger project, bring in wood through hardwood floors. Natural hardwood is durable, beautiful and available in a wide variety of shades and grain patterns. If you still want the organic elegance that hardwood provides but are looking to spend a little less, you can always go with a wood appearing laminate or luxury vinyl flooring. Both laminate and luxury vinyl are available in a wide variety of patterns and colors, plus they're durable flooring options ready for the most high-traffic areas of your home.
Outside of just flooring, wood can be used in countless ways, including but not limited to:
Shiplap Walls.

An accent wall with shiplap is an easy way to make wood a more central part of your design plans. The overlapping wood pieces call back to the rustic charm of barns, farmhouses and older homes.

Wood Furniture.

Classic wood furniture is another easy way to bring in the element of wood without doing too much major overhaul. From chairs to tables to bureaus and bedframes, wood furniture is abundant and fits in with a variety of styles.
Wood Décor and Accents.

The best way to incorporate wood into your space is to get creative with your personal style. Small pieces like planters, catch-all trays, side tables or even wood carvings can be the perfect minimalist approach to bringing in wood.
2. Decorate with Organic Textiles
While wood is a great way to include some harder organic elements, it's just as simple to bring some natural softness into your interiors. Incorporate natural fiber carpets and rugs. Wool, while potentially more costly, is an excellent choice due to its durability and longevity. Because of its naturally coiled fibers, wool keeps its elasticity and resists crushing underfoot or under furniture, unlike some synthetic fibers that can become crushed over time. Some other fabrics and textiles that can add an organic freshness to your space are:
Rattan & Jute.

These two fibers go hand in hand, and they are often referred to interchangeably. Rattan and jute fibers can be used for rugs, woven into ropes or burlap, and are often found as the main contributor to wicker furniture and other wrapped or woven pieces.

Linen.

Linen is the fabric that just keeps on giving. It's highly durable, gets softer as it ages and is very breathable and hypoallergenic. Because of these qualities, linen is widely used in bedding, blankets, pillows, and even décor like lamp shades and curtains.

Cotton.

Cotton is the perfect, multi-use fabric. From blankets to lampshades to bedding and beyond, cotton is an organic material used often and in varying types of home décor.
3. Natural Stone from Floor to Ceiling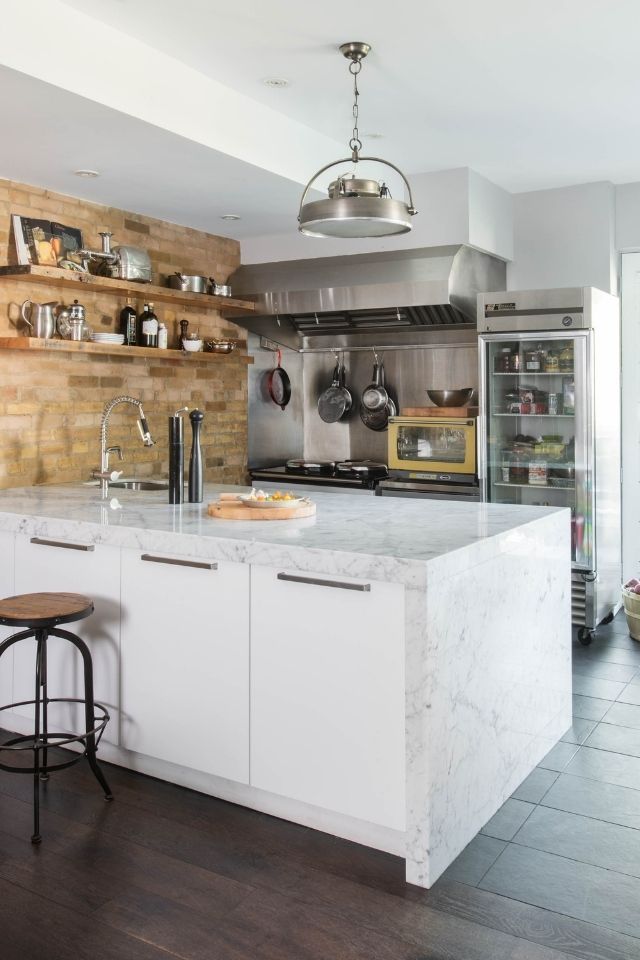 Design by MELISSA DAVIS Photography by STEPHANI BUCHMAN
Decorating with organic materials can sound daunting, but there are so many ways in which we already include organic materials in our design plans without thinking. Concrete floors in modern homes, exposed brick that adds dimension to your space, even marbled countertops in your kitchen or bathroom – these are all organic materials you may have in your home without even realizing their significance in natural and organic design. Of course, if you don't have these things or are looking to add them in there are plenty of ways to do so.
Ceramic Tile.

Tile can be used both on the floor or on the walls, and comes in variety of colors and textures, ranging from stone-like to decorative. Tile is very durable and allows you to choose just how organic you'd like your home to look and feel.

Clay & Terra Cotta.

Both materials are perfect for including smaller elements of the natural world into your space. From planters and pots to sculptures and beyond, clay and terra cotta will seamlessly add rustic natural charm to your space.

Concrete.

Used for flooring and for countertops, concrete is a natural resource made to withstand the test of time. If you're not looking to pour concrete inside your home, you can always choose laminate or tile that gives the same natural appearance of stone.
Decorating with Organic Materials Does Not Have to be Complicated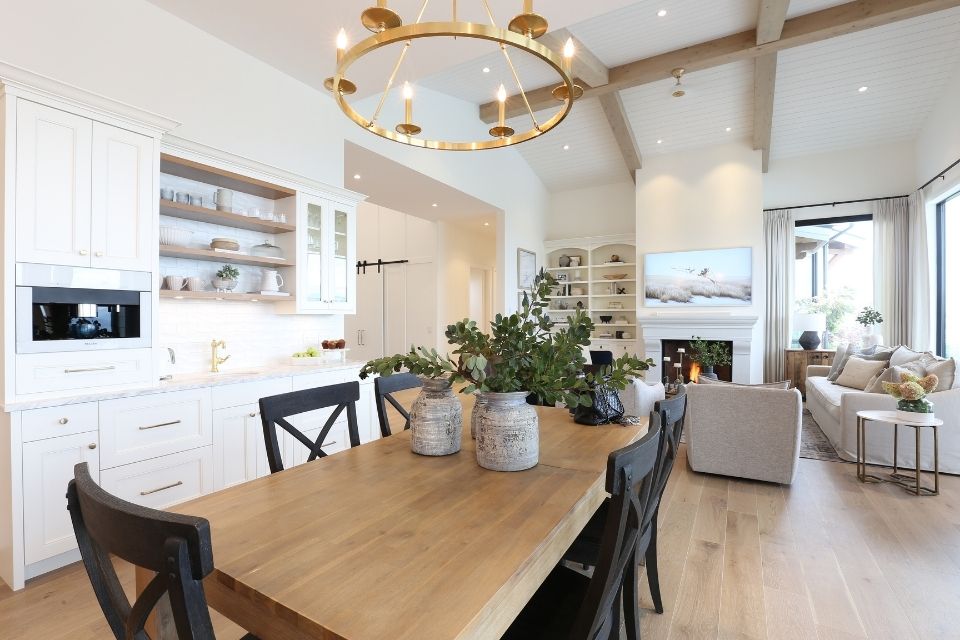 Design by TRISHA ISABEY Photography by TREVOR COOPER
The biggest thing to remember when trying to update your space to keep up with trends, like sustainable and organic design, is to do it is in a way that works for you and reflects your personal design style. You don't have to go out of your way to buy brand new wicker furniture in order to achieve an organic design style –the simplest of things like adding a hanging plant above the sink or displaying a bouquet of flowers in your dining room can accomplish that goal.
For more home design inspiration, check out our Beautiful Design Made Simple blog!